PRESS RELEASES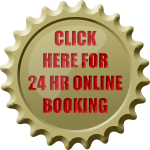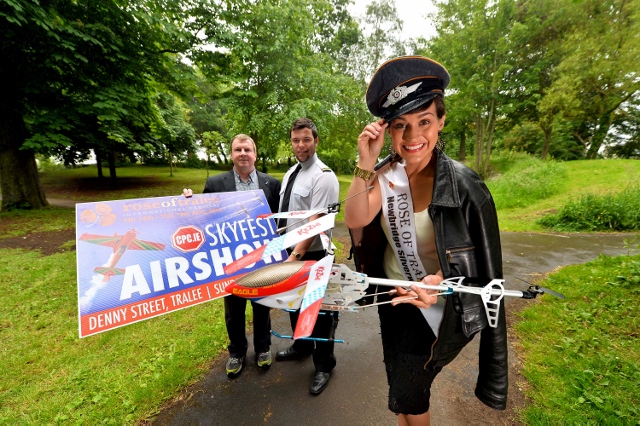 Congrats to Maria Walsh 2014 International Rose of Tralee for completing her tandem skydive into Tralee Town Park. The CPC.ie Evening Air Pyrotechnics Display was stunning!!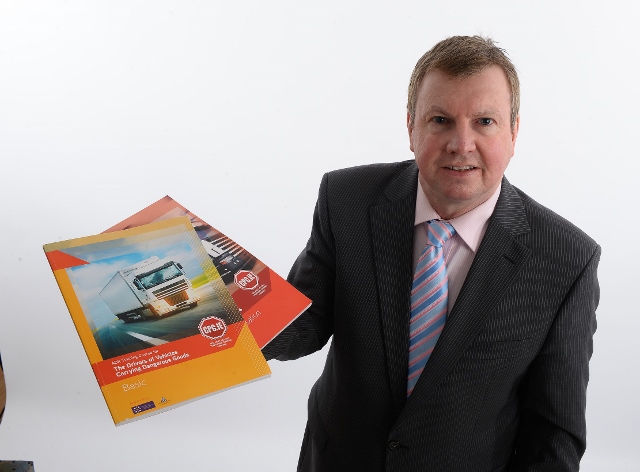 Press Release – 13th April 2015

Dublin training course plays key role in efforts to fill 15,500 Transport sector job vacancies

DUBLIN is leading the way as major centre for candidates who will fill many of the 15,500 job vacancies that could become available in the Freight Transport Sector over the next five years.

CPC.ie is enrolling for the latest Transport Manager Courses in Dublin after which successful candidates will receive an internationally recognised qualification for life from the Chartered Institute of Logistics and Transport in Ireland.

A Certificate of Professional Competence (CPC) in Transport Management is a compulsory requirement for any individual who wishes to fill one of the vacancies that are due to come online.

The Director of CPC.ie, Tony Hynes, said: "Road freight is the most common means of transporting freight in Ireland. An estimated 48,800 persons are currently employed in core Freight Transport, Distribution and Logistics Sector (FTDL) occupations. These roles are spread across a range of sectors within the economy including transportation and storage, manufacturing and retail and wholesale trade. Due to expansion and replacement demand for those employed in these occupations some 13,500 to 15,500 job vacancies could become available up to 2020. There is no reason why Kerry people should not take the steps to achieve the CPC in Transport Management to ensure that they are job-ready to fill any of upcoming vacancies."

Several priority recommendations were outlined in a report from the Expert Group of Future Skills Needs* to ensure that Ireland has the right skills base to facilitate international trade and domestic freight transportation and drive growth within the wider economy.

CPC.ie has a 99% pass rate and all course participants will receive a strong grounding in Financial & HR Management, Health & Safety, Employment & Contract Law, Marketing and other key areas that are crucial for achieving success in the Transport sector.

The Part-Time Dublin CPC Transport Manager Course will commence on Saturday 5th December at the Green Isle Hotel, while the Full-Time Transport Manager Courses will start on Wednesday 6th January and it's expected to attract participants from Dublin and surrounding counties.

Full details of the Transport Manager CPC Course dates, fees and exam times are available online from www.CPC.ie, by email from info@CPC.ie or by calling CPC.ie on 1890-374837 (1890-DRIVER).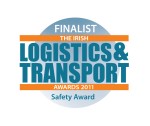 25 YEARS OF CPC TRAINING
Congratulations to CPC.IE and their founder and Managing Director Tony Hynes as this year they are celebrating a quarter of a century delivering their Award Winning and Internationally acclaimed CP courses.

CPC.IE will train an incredible 15,000 drivers this year alone. However, for those who have experienced the quality and professionalism of their training, this is really no surprise. Visit CPC.IE you will read thousands of outstanding and impressive Testimonials that their students have provided.

Always innovating, CPC.IE have created and sponsored Ireland's first and only reality TV series in search of Ireland's Most Professional Truck Driver and all 4 episodes of this fascinating competition can be viewed on the home page of their website. CPC.IE are currently running a new competition seeking Ireland's Most Professional Truck Driver 2013 and this new series will be aired on TV3 in May of this year.

Not surprising then that CPC.IE are now Ireland's foremost Transport Management and Driver CPC Trainers. They have successfully put thousands of students through their Transport Management CPC and because of the quality and dynamic delivery of this course by Tony Hynes many students fly in from abroad to attend their Transport Management CPC. Completing this course with CPC.IE has been a life changing experience for many students as can be seen from the feedback from course attendee Geraldine Stenson

I felt it necessary to contact you and tell you how grateful I am for all your inspiration and training on the Transport Managers CPC.
On your course I learnt so much in such a short space of time. Your methods of teaching were so to the point and I still keep your handouts to look back on. I gained an insight into a whole new career. It was in your classes that I got inspired and from then on, I knew this is where I want my career. In your class I learnt about the other courses available in Logistics. In 2011, I successfully obtained my Diploma in Logistics & Supply Chain Management and I am now proceeding with my Bachelors Degree in Supply Chain & Transport Management.

Just recently, I was hired as the Transport Manger of a large fleet and I look back now and I know of all the great lecturers I have had, you inspried me the most. Your course and teaching methods are superior and this changed the way I think about learning. I now know learning and education is continuously improving skills and investing in my future. Thank You

With 30 venues nationwide and 30 Driver courses (all modules) every week it is no wonder CPC.IE are the preferred choice for drivers and companies for their Driver CPC modules. To enhance customer convenience their course schedule is updated daily on their website.

CPC.IE employ 4 office staff and 35 Trainers. All staff are recruited and Trained by Tony Hynes and all attend Annual CPD training to enhance their skills and empathize with drivers who also attend one days training per year.
To launch the beginning of their next 25 years in business and to satisfy their customer demand CPC.IE now offer ADR/Hazchem courses. No doubt their ADR courses will be delivered with the same level of quality and excellence with which they have established their unmatched reputation over the last 25 years.
CPC TRAINING RECEIVES NATIONAL AWARD
CPC Training, Ireland's Leading CPC Trainers, has received two national accolades. CPC Training have been shortlisted for the Transport & Logistics Safety Award because of their ground breaking reality TV series "Driving for Living". This four part series can be viewed on their website http://www.cpc.ie/ and follows their search for Ireland's Most Professional Driver.
CPC Training deliver Driver & Transport Management CPC courses. Michael Dougan, a student on CPC Training's Transport Management Course, has been awarded the first ever Chartered Institute of Transport & Logistics Award for achieving the highest marks in Ireland (98%). This is a testament to CPC Training's excellent training methodologies and continued commitment to equality in training.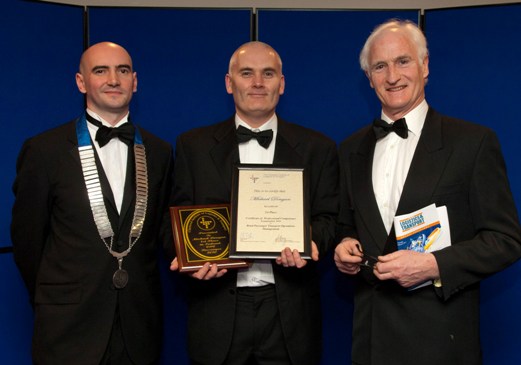 CPC.IE TO SPONSOR TRALEE DYNAMOS
CPC.ie, Ireland's Leading CPC Specialists, are very pleased to announce that they have now become the main sponsors of the Tralee Dynamoes soccer club. CPC.ie deliver Driver CPC and Transport Management CPC (Certificate of Professional Competence) Courses nationwide and have trained over 30,000 Drivers to date. As Ireland's most successful and leading CPC specialists CPC.ie looks forward to being associated with such a dynamic and ambitious football club. We believe that CPC.ie and Tralee Dynamoes will achieve phenomenal success together and we are delighted to announce some good news in today's difficult times.

Tony Hynes of CPC.IE also congratulated the club on their new €1 million development. At the launch of the Dynamoes new development Tony stated that "I have no doubt that Tralee Dynamos have proven, by your remarkable drive and success to date, that this new goal will also be achieved. Before leaving for the Brandon this evening I was listening to Gary Hynes (no relation) who is the Director of the now world famous Druid Theatre. She explained that "in the present economic climate self belief and self worth as a community is more important NOW than ever before". I believe Tralee Dynamos has these qualities in abundance and you NOW have the opportunity to show the country how these qualities can inspire us all. CPC.ie are thrilled to be the club sponsor and we are very fortunate to be associated with such a dynamic and hard-working Team. Congratulations and best wishes with this fantastic new development and best of luck in the seasons ahead"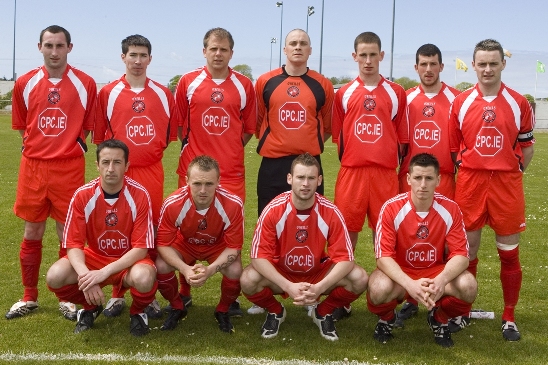 BECOME A CERTIFIED TRANSPORT MANAGER
If you want to pursue a career in Transport, unlock your potential and gain a recognised qualification then you should consider a Certificate of Professional Competence (CPC) in Transport Management. This Certificate, which is awarded by the Chartered Institute of Logistics and Transport, qualifies you as a Transport Manager and also entitles you to set up a haulage or bus passenger business. A CPC is also extremely beneficial for employment opportunities, career advancement, or if you want to up skill. You may also be entitled to funding for the course from your local FAS or Local Employment Offices. Subjects covered in the course include: managing a transport business; employment and health and safety legislation; contract law and financial management; tachograph and hours of driving legislation; national and international documentation etc. Approved CPC courses are run at weekends by Tony Hynes who has successfully put thousands of students through the CPC exam by using his own specially developed materials and his unique dynamic delivery style. Tony is starting his next CPC Courses on Saturday 2nd July at the Green Isle Hotel, Clondalkin, Dublin and Saturday 9th July at the Kilmurry Lodge Hotel, Limerick. If you wish to obtain further information you can contact Tony at 066-7185556 or 086-2458379 or tony@cpc.ie or visit his dedicated website at www.cpc.ie where you can also view the programme "Driving for Living – the search for Ireland's Most Professional Driver" – created and sponsored by CPC.IE.
NEW DRIVER CPC – 30,000 DRIVERS TRAINED
CPC.IE, Ireland's CPC specialists have now trained over 30,000 drivers in their "nationally acclaimed" Driver and Transport Management CPC (Certificate of Professional Competence) Courses. CPC.IE has been delivering Transport Training Courses for 25 years at 30 venues throughout the country.
All professional Truck and Bus drivers must now attend a one day training course per year and according to Tony Hynes of CPC.IE, whilst a lot of drivers were hesitant and sceptical about the course initially, the feedback has been brilliant. The drivers who have attended the Driver CPC modules with CPC.IE are extremely enthusiastic about the course and have praised the practicality of the content. In the current economic environment operators have been very impressed with the cost savings which can be applied to the bottom line. Others, because of the relevance of the subject matter, have even attended the course even though they are not obliged to.
CPC.IE have been inundated with enquiries from the haulage and passenger industry for the Driver CPC course and this should be seen an excellent reflection on the industry and on how positively the training is being received. "This training is a win/win situation for everyone concerned and most importantly will promote excellence in road safety and accident prevention" according to Tony Hynes of CPC.IE.
CPC TRAINING COMPANY SAVING LIVES
CPC.IE (based in Tralee) is currently airing a new unique TV programme, "Driving For Living", on City Channel to find Ireland's Most Professional Driver. Concept originator Tony Hynes of CPC.IE explains that this is the first time a reality TV programme of this kind has ever been undertaken. Hundreds of applicants were reduced to just three and each driver must undertake four tasks related to driving a heavy goods vehicle. These tasks include driving skills, health and Safety, eco-driving and vehicle checks and each driver was awarded marks for each task by judges in the industry. The overall winner will receive a €2000 cash prize, a Transport Management CPC Course and a specially designed trophy.
Tony is Managing Director of CPC.IE whose prime motivation is to save lives and promote SAFED – Safe and Fuel Efficient Driving. This programme is very timely, particularly with the introduction of the new EU Directive requiring all professional Truck and Bus drivers to attend a one day training course per year (Driver CPC).